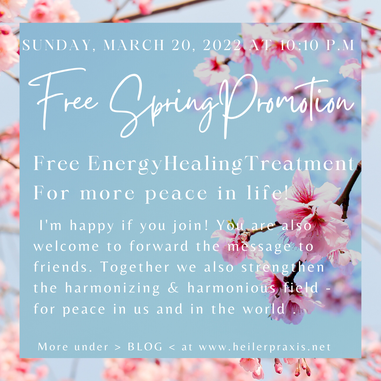 (sorry for translation by google)
On Sunday, March 20th I give at 10:10 p.m. on current events and the blossoming of spring, a free long-distance treatment for more peace in life, for general harmonization, strengthening and cleansing of foreign energies, so that we can get back into the love, harmony, lightness and joy that lives within us - come into peace with us and in the outside!
If you want to be there, write me a short message (see below)!
I am happy if you join us! You are also welcome to forward the message to friends. Together we also strengthen the harmonizing and harmonious field.
--
March 20th/21st is the Ostara sun festival: also called the spring equinox, dedicated to the Germanic goddess Ostara!
The originally Celtic festival celebrated at the equinox marks the beginning of spring. This pagan homage to the goddess Ostara seems to have faded from our consciousness, but it is still reflected in our Easter traditions today.
Ostara (from 'Eostre', for Latin 'Aurora' = dawn) brings back warmth, light, growth and life in spring. Cold and frost must give way. The goddess of fertility, agriculture, spring and dawn symbolizes the resurrection of nature, rebirth and growth.
An energetically important change of the seasons that we should consciously commit to and which I am happy to accompany with a free healing treatment.
--
By the way, you can find out the latest information in
my telegram group: https://t.me/sei_die_freude
or WhatsApp: https://chat.whatsapp.com/Iy3PQTp7zYu5mpTCaKStTZ
--
What exactly does the energy treatment on March 20th include?
Harmonization, purification and vitalization of your energy system - treatment for more peace in life
Purification of blocking emotional and thought energies, such as your own unconscious fears and insecurities,
Transformation of foreign energies
Clarifying the morphogenetic field of fear
i.e.
>> Energetic balance and support to come and be more centered,
>> for more peace & emotional balance, more lightness & well-being as well as vitality.
>> Stimulating the self-healing powers of body, mind and soul.
---
When?
Sunday March 20th
Duration: 10:10 p.m. to 11:20 p.m
----
How and where?
You can take part in this remote treatment no matter where you are.
The only requirement is that you set aside 70 minutes for it. The energies work without your intervention - everything as it is ideal for you and for the highest good.
You can receive the treatment comfortably lying or sitting, completely effortless. Just get ready about 5 minutes before the reception time or bedtime, prepare yourself for a treatment now (or later, if you go to bed earlier) and then: enjoy! The healing energies reach you without your own doing. You can also fall asleep while doing it.
Please register via:
by email at info@heilerpraxis.net
I need your full name and date of birth. Data protection is of course always guaranteed.
I am happy if you are there! You are also welcome to forward the message to friends. Together we also strengthen the harmonizing and harmonious field.
Best regards
and enjoy the wonderful spring time! 🌷🌷🌷
Petrarca
--
Dipl.Ing. Petrarca Bohlender
Healing Practice
Bonländer Hauptstrasse 51
70794 Filderstadt-Bonlanden
--
www.heilerpraxis.net
info@heilerpraxis.net
mobile: 0160 3777 179
---
Important NOTE:
At irregular intervals I will inform you by e-mail as part of my work as a healer.
The EU General Data Protection Regulation (EU-DSGVO) has been in effect since May 25, 2018. I will use your personal data (first name, surname, e-mail address) exclusively for the above purpose and will under no circumstances pass them on to third parties.
I would like to keep you informed by email in the future. And if you want to stay on my mailing list, you don't have to do anything else. For me, this is a permission to continue to inform you by email.
My website and e-mails, their content and all related materials are intended solely for sharing experiences and for general informational purposes. They are not intended to be a substitute for consulting a doctor or health practitioner, or for medical advice, diagnosis and treatment. Any lifestyle changes must be discussed with a doctor or naturopath.